Taking vital vitamins and minerals from daily meal is the ideal way to fulfill the body requirement for essential nutrients. However, synthetic food in our diet cannot provide enough nutrients. Therefore, Multivitamin supplements have been formulated by top brand of vitamin supplements for kids, men, and women. Women need higher amount of essential vitamin and minerals such as Vitamin C, Vitamin B complex, Vitamin D, folic Acid, iron, calcium, etc., which they can get from best multivitamins for women in Pakistan. If you are looking for the most effective and dietitian recommended multivitamin for women online in Pakistan, then you should follow this article.
Here you will find the 10 best multivitamin for women, which you can buy from Amazon imported multivitamins online shopping in Pakistan.
Vitafusion Women's Multivitamins gummies:
Vitafusion Multivitamins gummies are formulated to brace the overall health of women, by providing standard amount of essential vitamins and minerals for women.  The multivitamin and antioxidants infused formula does not only support health but also protects the body from oxidative stresses. It comes in natural berry flavor, which make multivitamin supplement yummy. It is recommended to take two chewable gummies in a day. There is no allergen such as artificial flavor, dairy, synthetic ingredients, or gluten.  Find the women's Multivitamins gummies price in Pakistan and buy it from Amazon women's multivitamins online shopping in Pakistan.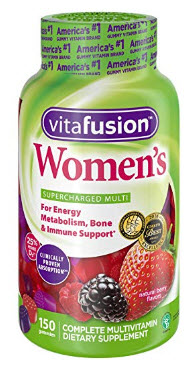 Centrum Silver Women Multivitamin supplement
Women need the vitamins and mineral supplementation from the age 19 to 50 +. Amazon imported Centrum Silver Multivitamins are formulated for women of age 50 and above. It is the multivitamin cum multi-mineral supplement, which fulfills the body's need for essential nutrients. The right combination of vitamins and mineral can support, brain health, heart health, bone health and eyes health. The imported Centrum multivitamin for women should be the part of every woman's diet in their late 50s. It is prescribed to take one tablet after meal. Find it and order for the non-GMO and no Gluten formula multivitamin for women in Pakistan.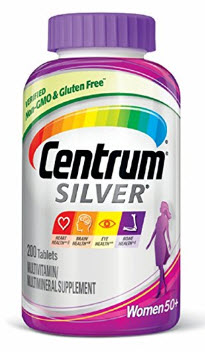 Nature's Way Alive! Once Daily Women's Multivitamin
The bestselling Nature's way Alive Multivitamin for women has the food-based formula, as all the essential vitamins and minerals are derived from natural fruits and vegetables. It has the high potential formula as it quickly converts the nutrients into energy. This imported quality multivitamin supplement for women will provide the instant energy to body.  It would be the ultimate multivitamin for over 50 women. It does not cure or treat any ailment but it strengthens the body in functioning and improves overall well being.  It is recommended to take one table in a day with any of your meal.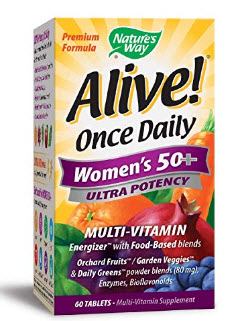 New Chapter Every Woman's One Daily Multi
The high potency Every Woman's One Daily multivitamin formula is made with food-based nutrients and probiotics, so the body will take the supplement as food. The fermented form of multivitamin does not disturb the digestion process as they are digested easily. The effectual formula supports stress management, bone health, and immune system. For active body, women need to get the sufficient vitamin B complex, Vitamin D3, Iron, Probiotics and other minerals, which they can get from New Chapter Women's multivitamins. You can get it from Amazon multivitamins shopping in Pakistan at the reasonable price. It can be taken on empty stomach.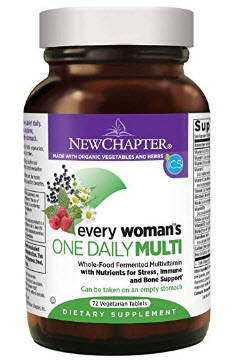 One A Day Women's Vitacraves Multivitamin
The imported One A Day Multivitamin for women is predominantly providing Vitamin D and Calcium for strengthening women's bones. The artificially flavored multivitamin gummies will provide enough vitamin A, C, D, E with zinc for supporting immune system and brain health. It is recommended to chew two multivitamin gummies daily for fulfilling the need of your body. Find the best One A Day Multivitamin price in Pakistan from here and get it from shopping women's multivitamins online in Pakistan.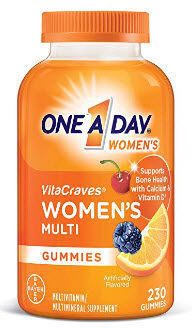 Garden of Life Vitamin Code Multivitamin for Women
The high quality Vitamin Code Multivitamin supplement contains live probiotics and active enzymes, which are important for energy and health of body. The important vitamins and mineral available in this women's multivitamin supplement are folate, calcium, magnesium, zinc and Vitamin A, Vitamin C, Vitamin D3, Vitamin E and Vitamin B-Complex. The high potential formula of multivitamins can provide ultimate support to bone health, heart health, eyes health, immunity health, digestion, and skin health. There is no binder or filler for raw whole food multivitamins.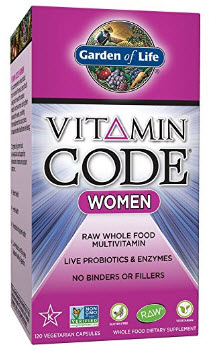 SmartyPants Women's Complete Gummy Vitamins
The premium multivitamin gummies for women contain fifteen vital minerals and vitamins for immunity, heart health, energy, and bone health. It contains omega 3 DHA, iodine, vitamin D3, Vitamin B complex, vitamin K, folate, etc. The formula does not contain any allergen, such as Dairy, nuts, soy, gluten, synthetic or artificial color or flavor, etc. It would be ultimate supplement for hair, nail, skin, and bone health. You can get the 180 gummies in one bottle. It is recommended to take six chewable gummies in a day. You can get it at best price from Amazon imported multivitamins online shopping in Pakistan.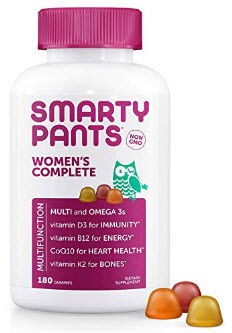 NATURELO Whole Food Multivitamin for Women
Naturelo Whole Food multivitamin supplement contains the natural vitamins from organic fruits and vegetables. You can get the minerals and vitamins of 24 whole foods such as carrot, ginger, pomegranate, grapes, cinnamon, berry, algae, turmeric, etc. The vital minerals and vitamins available are Vitamin A, Vitamin B complex, Vitamin C, Vitamin D3, calcium, iron, magnesium, folic acid, etc. The high efficacy formula strengthens bones, improves vision, supports immune system, boosts energy, diminishes inflammations, and more. One pack contains 120 capsules that are the supply for a month.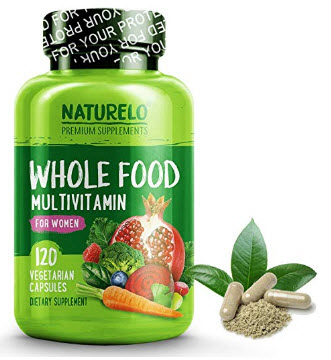 Vimerson Health Women's Daily Multivitamin
Every woman needs the proper nutrition through which woman can get the enough vitamins and mineral for vitality and energy. The USA imported Women's Daily Multivitamin supplement contains Vitamin A, B complex, C, D, E, zinc, Calcium, magnesium, iron, etc. This dietary supplement for women is supporting breast health, bone health, heart heath, immunity, vision, and more. It is highly recommended by dieticians and nutritionists for promoting women's overall wellbeing. Find it in the collection of Amazon imported multivitamins for women in Pakistan and get it from supplements online shopping in Pakistan.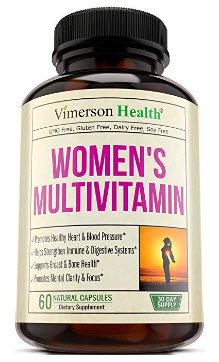 SugarBearHair Women's Multivitamins
The imported SugarBearHair Women's multivitamin has formulated with glutathione, omega 3 and vegan collagen booster. The tasty flavor elevated with the addition of natural berries, coconut oil, and sugar. It is the most delicious way to supplement essential vitamins and minerals and get the healthy hair, nail, skin and immunity. It is suggested to consume two multivitamin gummies in a day. You can get the 1-month supply jar of SugarBearHair Multivitamin gummies via Amazon women's multivitamins online shopping in Pakistan.