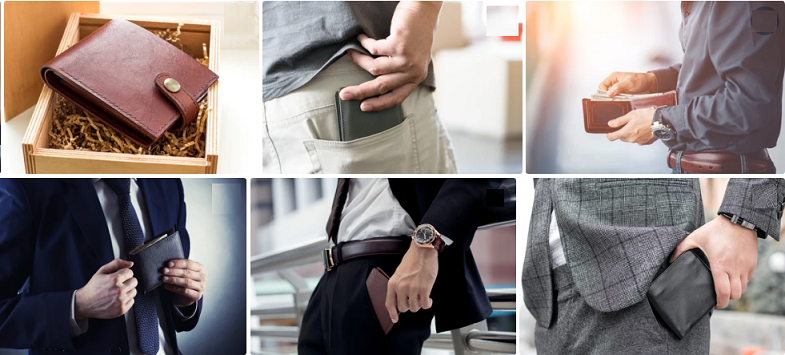 Buying Men's Wallets online in Pakistan is not as simple as it looks because men's wallets on sale clearance have countless varieties. Most people want to buy Men's Wallets & Cardholders Online in Pakistan at cheap prices, but there are many other things to be considered for men's wallets online shopping in Pakistan. The wallet is not only a purse to hold your cards and money but also tells about your personality. So, it is important to consider them as an investment to add subtle elegance to your personality. However, every person has different preferences, such as some like minimalist purses and some prefer classic leather wallets. No matter what category you belong to, our given tips will help you buy Men's Wallets online in Pakistan with no hassle.
Tommy Hilfiger Men's Leather Wallet – Slim Bifold with 6 Credit Card Pockets and Removable ID Window, Black Dore, One Size
Timberland Men's Blix Slimfold Leather Wallet, Brown, One Size
Slim RFID Wallets for Men – Genuine Leather Front Pocket Trifold Wallet (Charcoal)
Fossil mens Flip Id Bifold Wallet, Wade Black Vintage, One Size US
TRAVANDO Mens Slim Wallet with Money Clip AUSTIN RFID Blocking Bifold Credit Card Holder for Men with Gift Box (Carbon)
Timberland Men's Leather Wallet with Attached Flip Pocket, Black (Cloudy), One Size
Carhartt Men's Billfold Wallet, two-tone brown, One Size
Black Leather Bifold Wallets for Men – RFID Protected Front Pocket Wallet 1 ID
Guess Men's Leather Slim Bifold Wallet, Black/Red, One Size
Zitahli Wallet for Men, Larger Capacity with 12 Slots RFID Blocking Slim Minimalist Bifold Front Pocket Wallet for Men with ID Window Gift Box
Timberland Men's Leather Trifold Wallet with ID Window, Black/Brown (Hunter), One Size
Men's 3D Genuine Leather Wallet, Long wallet, Biker wallet, Hand-Carved, Hand-Painted, Leather Carving, Custom wallet, Personalized wallet, Indian Skull, Skeleton, Red Man, Native American
Levi's Men's Trifold Wallet-Sleek and Slim Includes Id Window and Credit Card Holder, Brown Stitch, One Size
The Ridge Minimalist Slim Wallet For Men – RFID Blocking Front Pocket Credit Card Holder – Aluminum Metal Small Mens Wallets with Cash Strap (Black)
Front Pocket Wallet for Men – RFID Blocking Leather Bifold Wallet with ID Window (Coal)
Timberland Men's Genuine Leather RFID Blocking Passcase Security Wallet, black, One Size
Bosca | Men's Deluxe Front Pocket Wallet in Italian Old Leather
Columbia Men's RFID Passcase Wallet
Fossil Men's Quinn Leather Bifold with Flip ID Wallet, Black
Fossil Men's Derrick Leather Slim Minimalist Bifold Front Pocket Wallet, Brown
Here are some tips that you can consider for men's wallet online shopping in Pakistan.
1. Explore men wallet types in Pakistan:
There is an innumerable range of wallets for men available in an online marketplace, and an intricate thing is every style comes with a different function. So, the prime thing for men's wallets online shopping in Pakistan is to determine which type suits the best for your requirement. Here we mentioned some highly demanded types to help you find your preference.
Men wallet leather: No matter which wallet design you like, you will find leather wallets in almost every style. Most people prefer it for leather's durability, class, and royalty. However, it is difficult to determine faux from genuine leather wallets during online shopping. Thus, the tip is to go for imported brands that claim to provide 100% original leather in their articles.
Customized wallets: If you are looking for a perfect present for him, you can buy Customized Wallets for men Online in Pakistan. You can ask the seller to engrave any name, date, or even picture on it to make it special for your loved one. They are mostly available in leather material, so they are durable and classy at the same time.
Men wallet slim: Many men do not prefer holding bulgy and big purse in their pockets, so brands have designed the slimmer version. They have a sleek and slim design that can fit easily in your front shirt pocket. You can only hold some paper money or cards in them.
Men wallet minimalist: It is a smart and slim men wallet with a money clip and card holding slots. It can keep your money and cards organized in it without making your pocket bulgy and fat.
Men wallet trifold: Trifold design features spacious compartments and multiple pockets to keep and organized various essentials in a purse. As its name shows, it folds in three layers to make it spacious and compact at the same time. It may come with a zipper or without zipper closure, but spaciousness will be the maximum in them. Men who require holding many small things in their purses should go for trifold wallets.
Men wallet bifold: The classic wallets come in a bi-fold design because they can accommodate almost every essential card, money, coin, etc. They have ID window slots, horizontal foldable pockets, card holding slits to keep every belonging organized in it. Therefore, most people prefer bifold leather wallets for Amazon men's wallets online shopping in Pakistan.
Cardholder Wallet: Men mostly have numerous cards, such as business cards, debit cards, credit cards, ID cards, etc. They may not accommodate in an organized way in a regular wallet, so brands have made specialized cardholder and card cases. They have multiple card slits to make the user align and hold cards in them.
2. Consider additional features:
In addition to types, you should also consider additional features that make the clutches more functional for daily use. Some of these features are as below.
Men Wallet with zipper: Some wallets have zipper slots that provide a safe place to hold coins, money, or small essentials.
Men Wallet with chain: This type of wallet has an attached chain for holding keys. They have a practically functional and stylish design that makes them the best choice for boys.
Men Wallet with coin pocket: Some bifold wallets have a small coin pocket in them to make you hold coins and mini essentials in a secured compartment. They help you keep everything organized in the clutch with ease.
Men Wallet with Money Clip: Money clip is mostly available in bifold slim wallets. The money clip locks up the paper money at its place without adding any extra layers for bulginess.
Men Wallet with ID Window: Some wallets come with a clear ID window, in which you can hold your CNIC or any identity card for quick display. Many people prefer to flip ID windows to improve the functionality of their purses.
3. Consider Wallet size:
Before going for men's wallets online shopping in Pakistan, always find out the perfect size for your need. Firstly, empty your existing wallet and sort out all items according to your need. Throw away all unneeded vouchers, gift cards, visiting cards, receipt slips, etc. After sorting your purse holding, it will become easier to choose the exact size according to your need. Most people prefer simple and smaller-sized purses because they are handy and compact. However, if you have many things to keep in your purses, you should go for trifold and spacious design.
4. Choose the best wallet material:
Most buyers limit their options for wallet material with leather material. However, there are more materials too, such as canvas, metal, fabric, and more. Metal wallets are also very durable for money and card holding, so you can prefer them too. Fabric and canvas material makes them washable, so you can wash and clean your clutch after every few weeks.
5. Go for Slimmer one:
Nowadays, most people prefer slimmer versions because they help you keep sufficient essentials with you without heavy bulgy pocket. You can simply slide them into your front pocket or jean pocket without worrying about them being noticeable.
6. Consider RFID-Blocking Technology:
In the case of the cardholder, we would recommend men wallet RFID blocking because it helps prevent digital robbery. It works by blocking the RFID data to keep it protected from digital thieves. You will find many wallets with RFID blocking technology from our place for men's wallets online shopping in Pakistan.
7. Look for the best imported Men Wallets Price in Pakistan:
The Wallet & Card Holders Prices in Pakistan are depending on material, design, brand, and construction, so they vary from product to product. However, we suggest you consider it an investment because a good quality wallet can last for many years. Local brands may quote low prices but their quality may also get low with rates. However, imported brands never compromise the quality, so they are worth the cost they quote.
8. Invest in imported men's wallets brands in Pakistan:
It is always a wise decision to purchase from an imported brand because they use the finest quality material for purse manufacturing. Thus, their products will never tear up or loosen up over time or with vigorous use. Especially, when it comes to leather wallets, top brands will leave the best impression on you. When you explore our collection, you will find amazing leather men's wallets brands in Pakistan. You do not need to be overwhelmed by men's wallets online shopping in Pakistan because we have enlisted below some worth considering the imported brand.
Men wallet Michael Kors: Micheal Kors has designed the classic bifold and slim wallets with the finest quality leather. They ensure the quality of material, construction, and design to make their user enjoy durability in their products. Each of their products has an iconic MK print, embossment, or tag that shows its originality. You can find various sizes and styles in the Michael Kors collection, such as leather wallets, cardholders, money clips, pass cases, billfold wallets, card cases, etc. If you want to buy designer wallets for men, you can check out the Michael Kors collection at our place for men's wallets online shopping in Pakistan. We suggest you buy Michael Kors Men's wallet Set from here. This set contains a billfold and card case wallet to keep every essential organized in mini and compact men's clutch. The plenty of card slots also allows you to keep visiting cards, credit cards, ID cards, and more at one place in a well-arranged manner.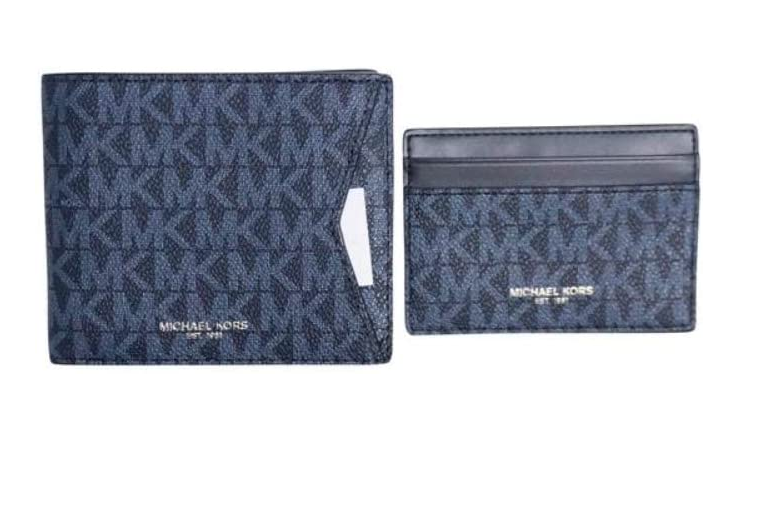 Men wallet fossil: If you want a good quality leather wallet, check out our collection for fossil wallets for men in Pakistan. They bring an entire lineup of wallets featuring 100% genuine leather material. The texture, color, quality, and durability of leather will never make you disappoint on your purchase. The versatile collection of fossil features a minimalist magnetic card case, trifolds, bifold, checkbook wallet, front pocket wallet, and more. All you need is to explore their available design to find your preferred design through men's wallet online shopping in Pakistan. In our suggestion, you can go with Fossil Men's Leather Trifold Wallet. It is made of 100% original cow leather and has a man-made material lining. The plenty of compartments, card slots, and a flip ID window make it the best pick for men. If your man likes having expensive wallets, you should present this one to make him feel expensive.
Men Wallet Coach: Coach is famous for the stylish and sophisticated designs of leather purses that can elevate your personality. They always feature multiple cards holding slots, pockets, and compartments to make you organize your belongings in them. Thus, most men prefer Coach Wallets for men to spice up the game of money and cardholder. Its signature C logo adds grace and class to the design to make you look expensive. From a versatile collection, we will suggest you invest in Coach Men's Slim ID Card Case. It is the perfect pick for those who prefer holding credit cards and debit cards rather than money. They have three credit card slots that enable you to hold and arrange cards in them. You can use it individually or hold this card case in your regular purse for a more organized look.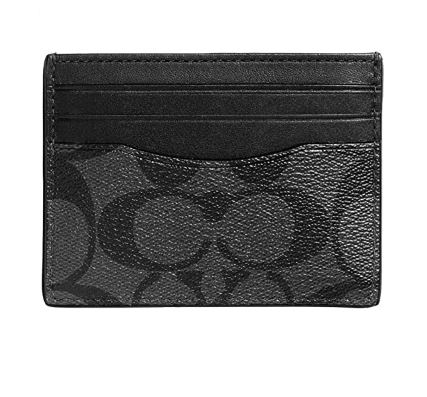 Men Wallet Gucci: Gucci has brought a separate lineup of wallets, in which you can find all famous styles and designs. From canvas to bifold, you will find iconic print in every style. If you have a craze your Gucci, do not limit yourself to having the signature Gucci wallet from our place. Here we suggest one from the original Gucci brands. Gucci Men's Bi-fold Wallet features GG canvas in Guccissima pattern to make it look expensive in its single look. It features two billfold pockets, two flat pockets, and three card slots, so you can organize your cards, money, and slips nicely. This canvas quality and multiple pockets design make it more functional for daily use.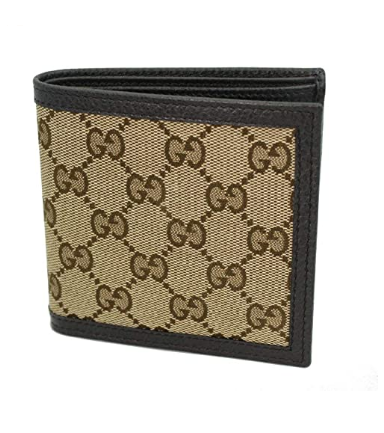 Men Wallets Guess: Guess has designed an amazing range of wallets for men, from leather bifold to slim wallets. If you want to invest in a highly durable product, you can trust Guess products blindfolded. They claim to use the finest quality leather in men's purses to make them perfect for daily use. From a wide range of Guess artciles available, we suggest GUESS Men's Leather Bifold Wallet. It has six card pockets that make you organize credit cards, debit cards, ID cards, and visiting cards in the purse. There is also a currency pocket, in which you can hold some cash in coins or paper money.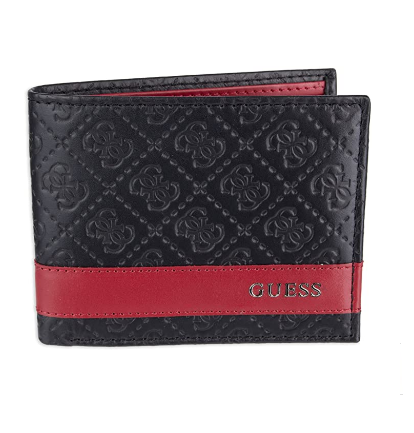 So, what are you looking for now? Use our tips for men's wallets online shopping in Pakistan and upgrade your wallet with the imported brand. Our tips will make you get the best quality, 100% original, and branded products with an amazing experience of online shopping in Pakistan. Explore our collection now, pick your favorite brand, and get the best men's wallet price in Pakistan. Once you find your required one, simply place your order now at our place. We will import it from the USA and send it right to your doorstep with the best payment option.