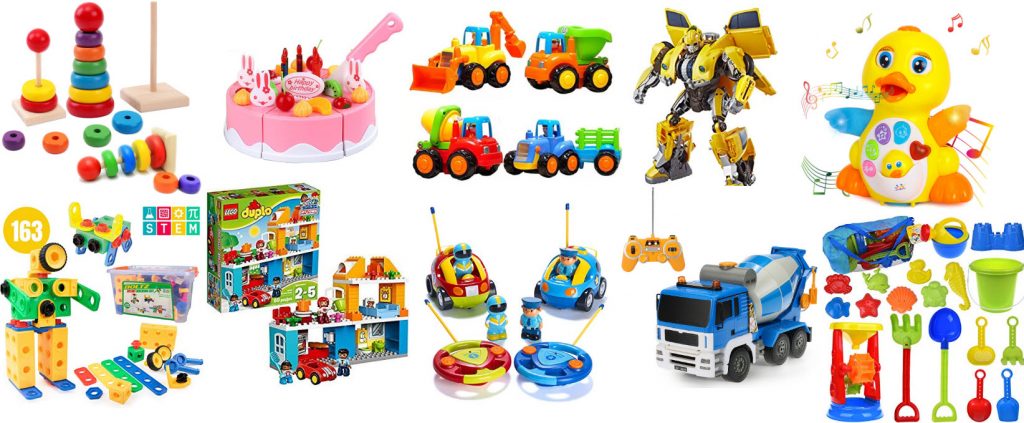 Parents usually select the toys for their kids to engage them in fun activity or for educational purpose. However, parents should consider the age while selecting the best toys for kids in Pakistan. It is researched and proved that child having age appropriate toys will develop better psycho-motor and physical skills than child having randomly chosen toys. Another most important thing for choosing age appropriate toys for kids is safety of kid. Some toys have the small parts, which increase the choking hazard to kids. Therefore, it is recommended to pick the toy that is safe and beneficial for your child. Here we are providing the buying guidance for parents, who are searching correct toys for kids according to their age.
Best Toys for Infants to 12 Months Baby:
The age of infant is the most sensitive age of baby, as baby starts adapting to the new environment. The initial 3 months of baby is crucial for sensory development such as touch, vision, hear, etc. It is recommended to bring the sound producing toys, such as rattles, for babies of ages around 3 months. After 3 months, babies start grasping the things and attract toward the eye-catchy things. Therefore, it is recommended to buy colorful rattles and stuff toys for babies. You can also find the pull and push toys for babies, who just start walking or crawling. Do not buy toys having sharp edges, small parts, detachable parts, hard, or PVC made. You can find the best toys for infant to 1-year, which you can buy from babies' toys online Amazon shopping in Pakistan.
Best Toys for Toddlers of Age 1 To 3 Years
Toddlers need to develop the psychomotor skills, eye to hand coordination, body balance, and identification of object around them. For toddler, pediatricians recommend the activity center toys for babies, as they offer multiple developmental skills grooming activities. For instance, stacking of rings, sound effects, stacking block, push and pull, shape sorting, color sorting, and more. It is recommended to avoid the toys that have small parts or edgy parts, as it will harm your little one. We have given here the spruce list of toys for kids age 1 to 3 in Pakistan.
Best Toys for Preschoolers Age 3 To 5
Kids of age 3 to 5 need to develop the better cognitive skills while improving the psychomotor skills. The multipurpose educational and learning toys are purposely designed to improve the basic developmental skills of child. In this age, kids love to assemble and dissemble the toys so building blocks, stacking toys, and puzzles would be the ultimate pick for them. Coloring books, painting books, and such art and craft toys for kids are designed to encourage the creativity of kids. The brief list of recommended toys for kid age 3 to 5 years are:
Stuffed animals and plush toys
Ride-on toys
Different playsets, such as kitchen playsets, dolls playset, telephone playset, playhouse, etc.
Puzzles
Best Toys For Kids Age 5 To 8:
Kids need to explore and learn about every new and basic concept at this age of childhood. Therefore, parents need to pick the age appropriate toys that promote learning and cognitive thinking in kids. Kids have to broaden their imaginative skills and try to create something innovative. Best Toys for kids, available through Amazon toys online shopping in Pakistan, help the parents in improving these skills in kids. The best toys for kids of age 5 to 8 in Pakistan are:
Best toys for kids age 9 to 12:
The best appropriate toys for kids' age 9 to 12 should be chosen consciously, as it is the middle age between kid and teenager. At this age, kid starts developing their interest in any field so parents should bring the best toys according to kid's interest. You can find versatile range of best toys for boys and toys for girls in the collection of imported Amazon toys online in Pakistan. Here we have mentioned spruce list of best toys for kids of age 9 to 12.
Outdoor sports toys, such as cricket kit, basketball, football, soccer ball, badminton, tennis, etc.
Kid's robot kit, RC robot, robot building playset, etc
Basic video game consoles, Nintendo switch game consoles, etc
Science kit
Card games, complex board games, chess, draft, etc
Best toys for teenagers age 13 and above
When kid enters the teenage, then he/she prefers the electronic toys. If you are searching the best toys for boys above 12 then you should considered following mentioned toys:
Video game consoles, such as Xbox, PlayStation, Nintendo, etc
RC Drone, RC cars, RC Robots
Handheld gaming console
Outdoor sports toys
If you are looking for best toys for girls' age above 12 then explore the toys' collection from Amazon kid's toys online shopping in Pakistan. The best toys for grownup girls are:
Karaoke system
Fun play card games
Kid's Makeup set
Art & craft kits
Where to Buy Age Appropriate Toys for Kids in Pakistan:
Whether you are searching for best toy gift for girls or toys for boys in Pakistan, you should pick the appropriate one as per the age of kids. You can take the kid's toys shopping guidance from here and find the widest collection of Amazon imported toys for boys and toys for girls, online in Pakistan. Just click order and get it at your home door through kids' toys online shopping in Pakistan, with cash on delivery payment option.