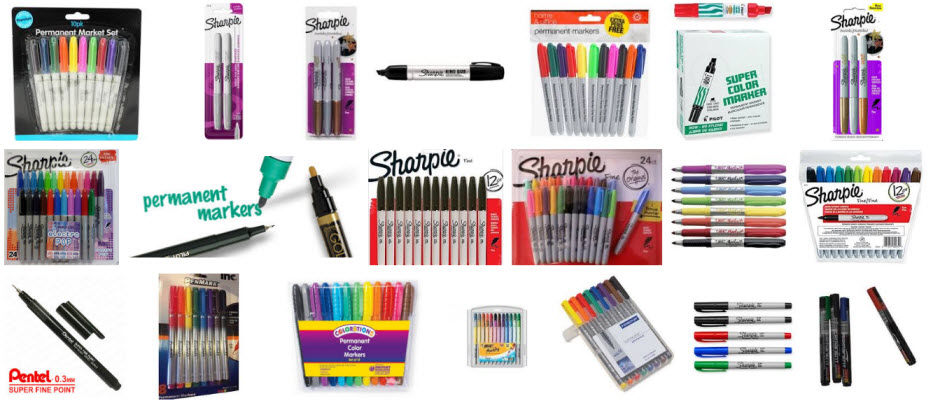 Permanent markers or permanent marker pens are one of the essential office products. The best quality permanent markers can write on different type of surfaces for example, wooden surface, glass surface, metallic surface, plastic surface and stone surface. If you are wandering for the best permanent makers online in Pakistan then you should keep following features in your mind such as marker pen tips, colors, brands, types and other. This article will allow you to find and shop the USA imported Amazon permanent markers in Pakistan.
Best Features of Permanent Markers:
The must viewed features of permanent markers are fade resistant, long lasting, non toxic, versatile in use, save to use, and comfortable to hold.
Best Tip sizes of Permanent Markers:
There are varieties of permanent marker tip sizes which let you draw or write in any fonts. Most famous tip sizes are felt tip permanent markers, broad tip permanent marker, and fine tip permanent markers. Commonly broad tip markers are used in offices as you can write or draw anything precisely with bold lines.
Best Colors of Permanent Markers:
Colorful permanent markers are mostly used for drawing purposes. With the help of assorted colors, anyone can define the assorted parts with different colors. Every best brand of permanent markers is manufacturing the multiple colors of permanent markers which you can buy through Amazon best permanent markers online shopping in Pakistan. The wide range of marker colors includes all rainbow colors.
Best Types of Permanent Markers:
Permanent markers designed as per its corresponding use. You can find specialized permanent markers for drawing, for hand lettering, for coloring, for board writing, for use different surfaces, and for note taking. Each of the types defines the area of use so choose according to your use.
Best Brands of Permanent Markers:
Original branded permanent markers ensure the features quality such as less feathering, negligible bleed through paper, best ink quality, long lasting permanency and the best tip material. There are many USA imported brands of permanent markers but top rated are Sharpie, Bic Mark-it, Avery chisel tip, Sanford, prismacolor and more. You can find and buy it from the incredible service of Amazon imported permanent markers online shopping in Pakistan. The best permanent marker available at the online shop is:
The imported quality Sharpie markers are renowned office products which are used for labeling, personalization and mentioning. It is considered as the strongest permanent marker among the other types and brands. The permanency is last longer on every type of surface as the permanent ink gets absorbed into the surface. The multiple colors of sharpie permanent markers are also available from shopping imported quality permanent markers online in Pakistan.
Best Way to Remove Permanent Marker Ink:
Permanent markers mark can only be removed with cleaning agent such as petroleum, acetone, paint thinner, mineral spirit etc.
Buy best Amazon Permanent Markers in Pakistan:
The broad collection of imported products in Pakistan at the e-shop is offering the premium quality permanent markers at exceptionally reasonable price. You can buy them in a form of sets of different colors of permanent markers. Explore the collection and place your order now. You will get the ordered marker pen at your home door within the offered delivery time with the cash on delivery smooth facility. Whole fluent procedure will allow you to enjoy Amazon online shopping in Pakistan.
Best permanent marker Brands